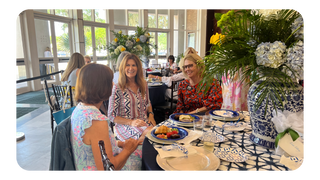 Become A Member
Council of 101 is an organization of women committed to promoting and supporting the Orlando Museum of Art. We encourage all who value our mission of promoting cultural arts in Central Florida to join our diverse and inclusive volunteer group. Please complete the Membership Application below.
Prospective Provisional Members Eligibility
A prospective provisional member must:
Be a resident of Central Florida.
Have a strong belief in volunteerism and a willingness to participate in the activities of the Council
Have a commitment to fulfill the financial and time obligations which include:
Provisional Fee of $40 (with submission of Membership Application)
Join the Orlando Museum of Art (Individual - $55, Dual/Family - $80)
Attend Provisional Monthly Meetings and volunteering at our fundraising events
Submit an application for membership to the Board of Directors by the last Thursday in March.  
Attend two general membership meetings.
Attend a Provisional Orientation meeting.
Membership in Council of 101
The Council of 101 consists of over 275 provisional, active, associate and sustaining members. Financial commitments and committee participation of our members help facilitate the mission of Council of 101 of providing financial resources for the Orlando Museum of Art.
For additional information on membership, please contact the Council of 101 office at councilof101@omart.org or 407-896-4231, x254.

New Member Enrollment
The 2022-2023 enrollment period is now over.
To receive updates about the 2023-2024 admissions process, Please contact:
Allison Hudson
President Elect/VP Membership 2023-2024
ashudson@me.com